Ripton, the leading brand in Performance Denim, is launching jeans. With a commitment to innovation and style, Ripton introduces two distinct styles of long jorts for men and women — Classic, Performance, and Hiker jeans — each designed to deliver unparalleled comfort, performance, and style.
"We are bringing a new energy to the outdoor and denim industry," says Elliot Wilkinson-Ray, founder and CEO, Ripton. "It was a bit of a no-brainer to join the largest category in denim with our floor-length jorts. Customer surveys asked for jeans, so we made some the Ripton way."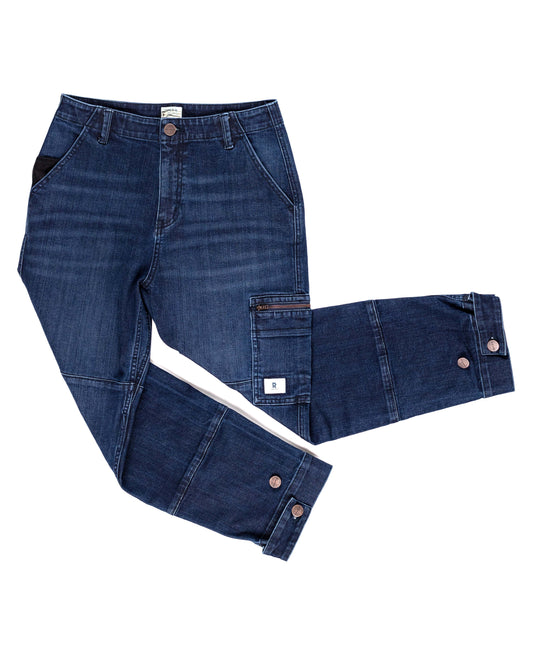 The Hiker and Performance jeans redefine active denim with technical designs for any adventure. Thoughtfully crafted with sturdy construction, these pre-jorts are engineered to withstand the rigors of the most demanding activities. Function-driven features paired with lightweight, stretchy denim give jortbags the jeans they demand for athletic feats performed with sensational style.
"Ripton's Hiker jeans epitomize our commitment to pushing the boundaries of denim technology," says Wilkinson-Ray. "We incorporated state-of-the-art materials and design elements that redefine the possibilities of Performance Denim. These jeans have a wider fit, are stylistically creative, and are a fun departure from your standard jeans."
For Jortopians who prefer a subtle look, Classic jeans bring a new flare to a traditional wardrobe staple. Front and back pockets mesh pockets and a zippered side pocket put a modern twist on these waist-to-ankle jorts.
"Classic jeans will quickly become the go-to pair for everything from dirt-jumping to dinner in town," says Wilkinson-Ray. "We truly believe there's a style here for everyone and are excited to keep evolving our product line and denim creations."
Each style is available for men or women and comes in two different washes, light and dark. Pricing for Classic jeans is $98; Hiker and Performance jeans sell for $116. Jeans will be available for purchase online at https://riptonco.com/collections/jants and at Ripton's pop-up store on the Pearl Street Mall in Boulder, Colorado.
With this new collection, Ripton continues its legacy of superior quality, style, and irreverence. The curated fabrics and attention to detail ensure that Ripton jeans are the pinnacle of Performance Denim craftsmanship.
Visit, ripton.com to immerse yourself in the world of advanced denim innovation, and check out the latest offerings.